Our restaurant overlooking the fishing port where our fresh ingredients come from.
The open kitchen that was reopened in 2008 after refurbishment has an old fashioned oven and a grill stand.

Fresh seafood is cooked while diners watch.
The infra-red brings out the taste of food, offering unprecedented pleasure to your taste buds.

We prepare our original plates with freshly caught ingredients from Zatsugasaki Fishing Port.
Enjoy the food while you watch the streets and the sea reflecting the evening glow.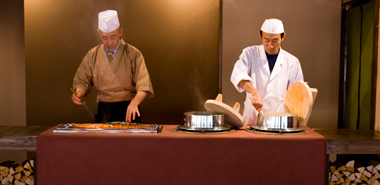 Sweet & plump, and the texture is just right.
Oven-cooked rice with rich natural flavor.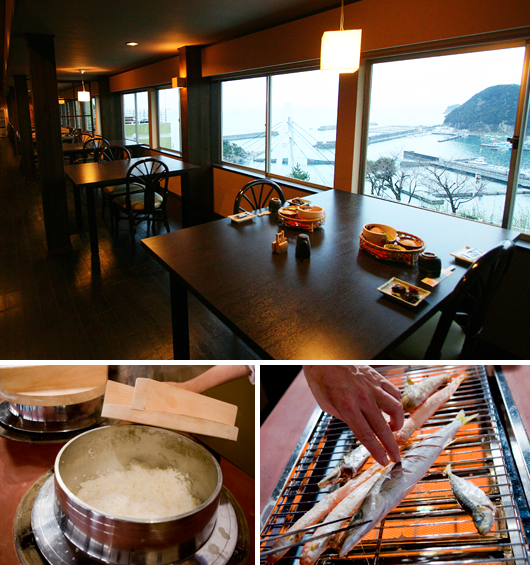 An authentic outdoor 25m swimming pool that overlooks the sea.

It's a very popular swimming pool which many of our guests keep coming back for.
The swimming pool is a summer attraction as well as Barbeque Garden Cliff.
Out-door swimming pool of 25m×10m×1.5m.
There is also a paddling pool for young children.
※The swimming pool and the paddling pool operate from mid July to the end of August.
※Use of the pools before or after checking in is possible by paying half of the normal charge.

Relax in the bath with Tatami flooring.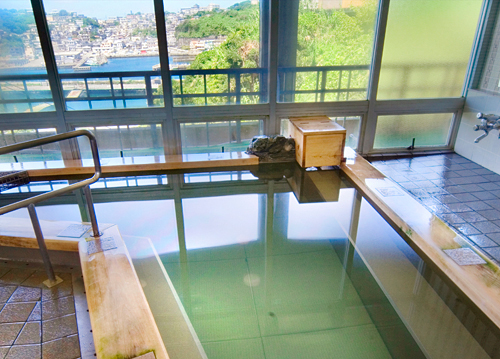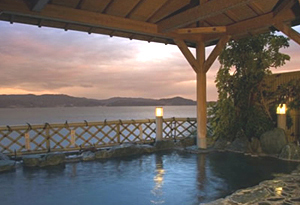 Our sister inn, 5minutes away from us.
"MANPA RESORT- Nihon Style(Japanese Style)"
Enjoy the open-air natural hot spring bath.
The renewed large bath has Tatami flooring at the bottom.

Specially selected Kishu Bitcho charcoal is used in the bath tub and the filtration tank enriching the hot water with beneficial minerals such as Calcium, Iron, Manganum and so on.

The bath is said to have effects such as warming you your body, softening your skin and healing eczema, lash, skin inflammation, poor circulation, back pain and stiff shoulders, and also to create beautiful skin.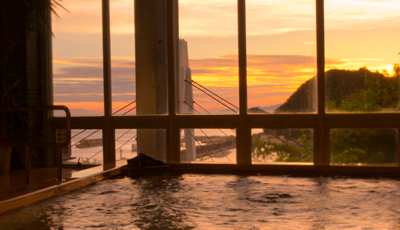 The setting sun seen from the large bath room.

Relaxing chartered bath for families and couples.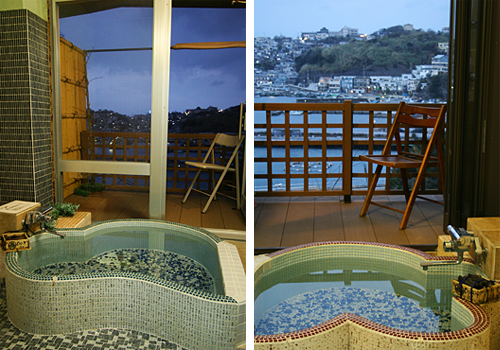 ※Two types of chartered baths –family bath and open-air bath- are available.

※Ask us on check-in if you wish to use a chartered bath.
(Charter charge: 1,575 yen/ 60 mins)

※The open-air bath for chartering is a smaller bath for two adults and one child max.